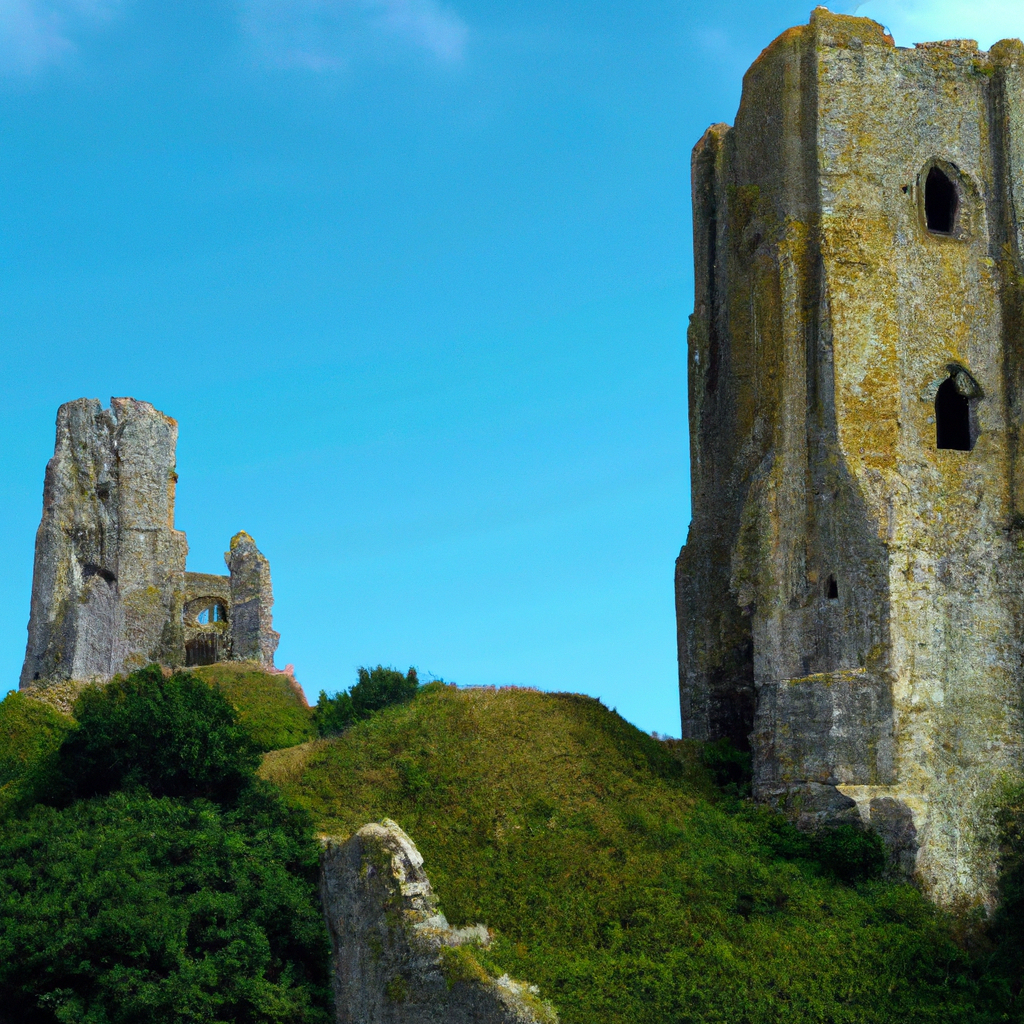 Corfe Castle is a majestic ruin located in the village of Corfe Castle in Wareham, Dorset, England. Situated in the Purbeck Hills, the castle is a major tourist attraction and part of the Jurassic Coast, a UNESCO World Heritage Site. Corfe Castle is owned by the National Trust and managed by English Heritage, and its history dates back to the 11th century.
History of Corfe Castle
Corfe Castle was first constructed in the 11th century by William the Conqueror, and it served as a royal fortress for several centuries. It was later used as a royal residence and prison. During the English Civil War, the castle was destroyed by Parliamentarian forces in 1645.
What to See at Corfe Castle
Today, Corfe Castle is a ruin, but it still offers plenty of attractions for visitors. The castle's grounds are home to a variety of wildlife, including badgers, foxes, and owls. Visitors can explore the castle's ruins, which include towers, ramparts, and a great hall. There are also several exhibitions that tell the story of Corfe Castle's history.
Tours and Admission
English Heritage offers guided tours of Corfe Castle, which are available throughout the year. Visitors can also explore the castle on their own. Admission to Corfe Castle is free for members of the National Trust and English Heritage. Non-members can purchase tickets at the castle's entrance.
Tips for Tourists
Visiting Corfe Castle is a great way to explore the area's medieval history. Here are a few tips for tourists:
Wear comfortable shoes, as the castle's grounds can be uneven and rocky.
Bring a camera to capture the castle's stunning views.
Pack a picnic lunch to enjoy in the castle's grounds.
Take a ride on the nearby Swanage Railway for a unique view of the castle.
Explore the nearby attractions in Dorset, such as Lulworth Cove and Durdle Door.
Practical Information
Corfe Castle is open from 10am to 5pm daily from April to October. From November to March, the castle is open from 10am to 4pm. The castle is closed on Christmas Day and Boxing Day. Parking is available at the castle's entrance, and there is a cafe onsite.
Visitors to Corfe Castle can explore the ruins of this majestic castle and learn about its fascinating history. With its stunning views and nearby attractions, Corfe Castle is a must-see destination in Dorset.